Welcome to the Celtic School of Sound Healing. I am passionate about Sound and in awe of the transformations, even miracles that I have seen throughout my many years of working with sacred sound as therapy.
I am also passionate about our Celtic and pre-Celtic heritage. The Celtic Wisdom and Mystery Traditions of our ancestors, rituals and shamanic practises, all weave their way throughout my entire Advanced Sound Therapy Practitioner course, and go even deeper in the Advanced Diploma Award modules. This creates a magical and beautifully enriched offering which will enhance your knowledge, skills and spiritual development on all levels.
My year and a day, Temple of Brighid Priestess Training (TM) is a further offering you may be interested in. Full description below.
Accreditation:
CSSH is a Registered College with the Complimentary Medicine Association UK and has achieved recognition by the CMA as a Centre of Excellence.
The Celtic School of Sound Healing is an Appoved Training Provider with the Association of Sound Therapists Ireland.
"The prime objective of all initiatory music in the Temples of antiquity, was to bring about physical purification and renewal, mental stimulation and alertness, spiritual exhilaration and illumination.
In the coming New Age, this will once more be the glorious mission of music and musicians"
Music the Keynote of Human Evolution
by Corinne Heline (1882-1975)
Photo: At Rath Gráinne, Hill of Tara with Buddy.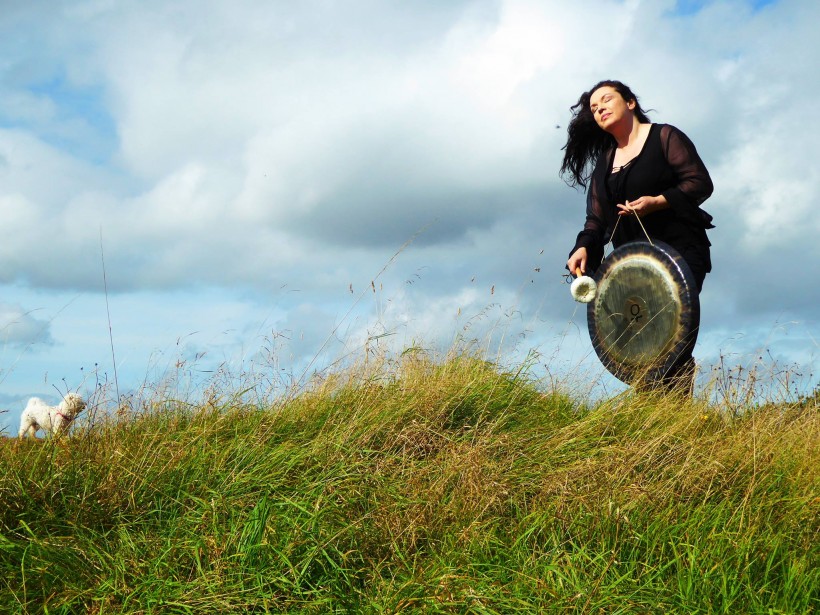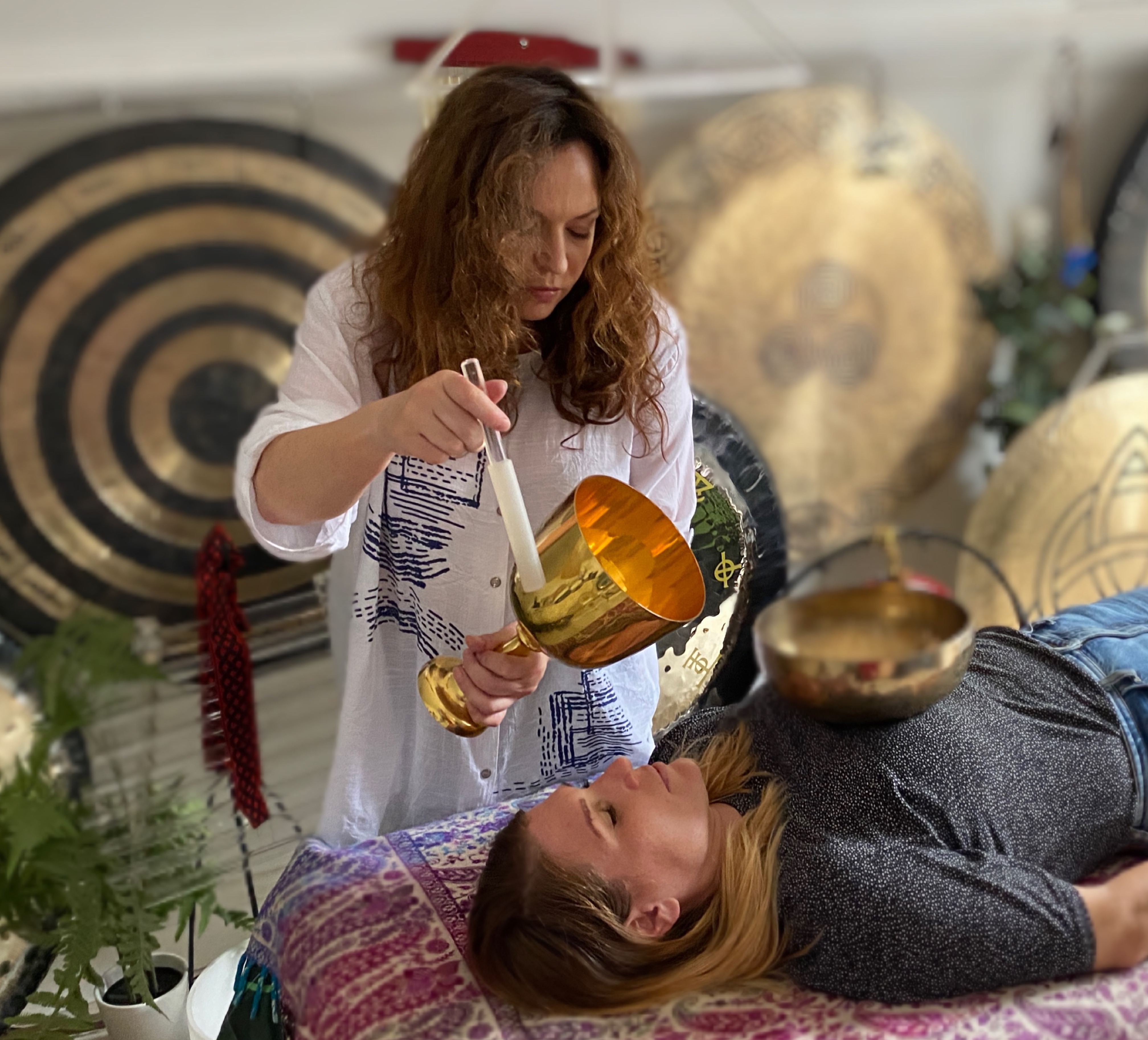 Advanced Sound Therapy Practitioner Certification
This comprehensive Course in Advanced Sound Therapy covers techniques in Voice, Himalayan Singing Bowls, Tuning Forks, Crystal Bowls and much more.
It comprises the following modules:
Foundation in Sound and Energy Healing
Level 1 Primary Studies in Sound Therapy
Level 2 Intermediate Studies
Level 3 Advanced Practitioner
Foundation is prerequisite.
Certification is awarded on successful completion of associated Workbooks and Case Studies.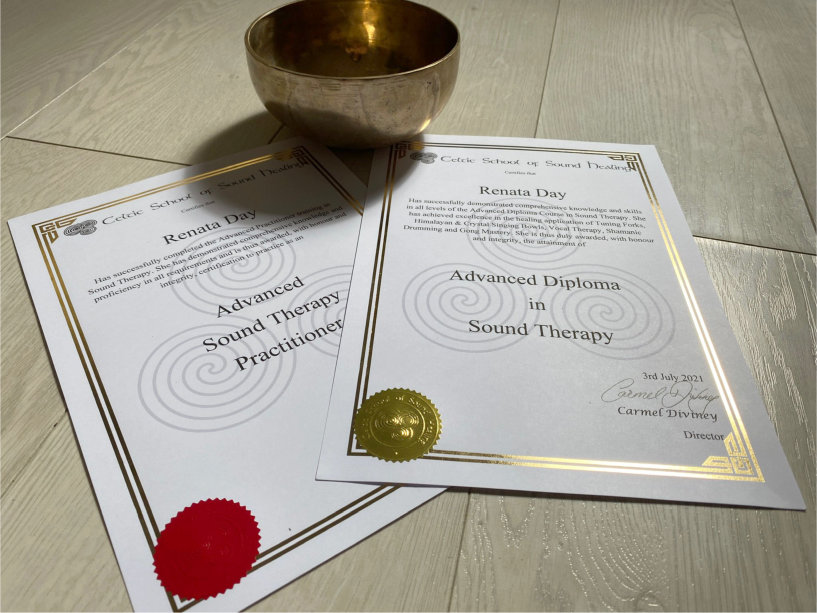 Advanced Diploma in Sound Therapy Award
The Advanced Diploma is awarded on succesful completion of the Level 3 Advanced Practitioner Course plus the addition of
Level 4 Celtic Shamanism & Sound Therapy
Level 5 Gong Master Training & Celtic Tree Magic
Both of these courses are highly specialised with sophisticated techniques for the serious student.
You will learn ancient and modern healing protocols both for your own spiritual development as well as advanced healing techniques to empower you to help others.
Please contact me for further details, enquiries welcome.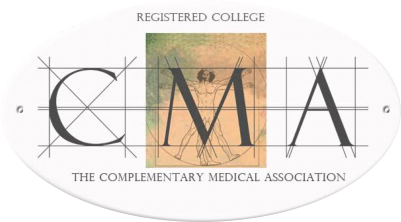 The Celtic School of Sound Healing is a Registered College with the CMA and has been recognised as a Centre of Excellence with the CMA.
This very prestigious recognition, demonstrates my commitment to the highest standards and my continued dedication in supporting you as student in your learning.
The Celtic School of Sound Healing is also an Approved Training Provider with the Association of Sound Therapists Ireland.







Carmel Diviney lives in Dublin and has ran her own busy Montessori School for the last seventeen years. She is a Master Sound Therapist and Tutor, Reiki Grand Master, Indigenous Herbalist, Bandraoí and Banfile, Advanced Shamanic Practitioner & Shamanic Counsellor, Author and Recording Artist.
Carmel has been working in the field of holistic health for over 25 years, starting her journey with Reiki and adding other healing modalities such as crystals, earth healing, aromatherapy, shamanism and most importantly Sound Therapy as her journey progressed.
She began teaching Usui Reiki and Sound Therapy at Reiki Sound Healing Dublin in 2010 and in 2015 transformed her offerings with the unveiling of the Celtic School of Sound Healing.
Check your inbox to confirm your subscription